1/27/23
Since this is the first month of the new year, we thought it would be fun to highlight the volunteer work we do with one of our partners, show what we've worked on together, and explain why you see so many dogs on our Instagram account! (@quantumcreditunion is our handle!)
Quantum Credit Union has sponsored a suite at the Kansas Humane Society since 2017. The adoption suite is front and center at the Humane Society's adoption floor, and it provides the pup awaiting adoption with his or her own room and bed, and a nice comfy space to wait for someone to take them to their forever home. We get updates at the beginning of each month from KHS so we can see the dogs that enjoyed a stay in our suite! Below is a photo of a few of the dogs that lived in the Quantum Suite last month.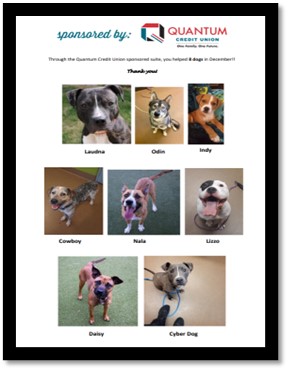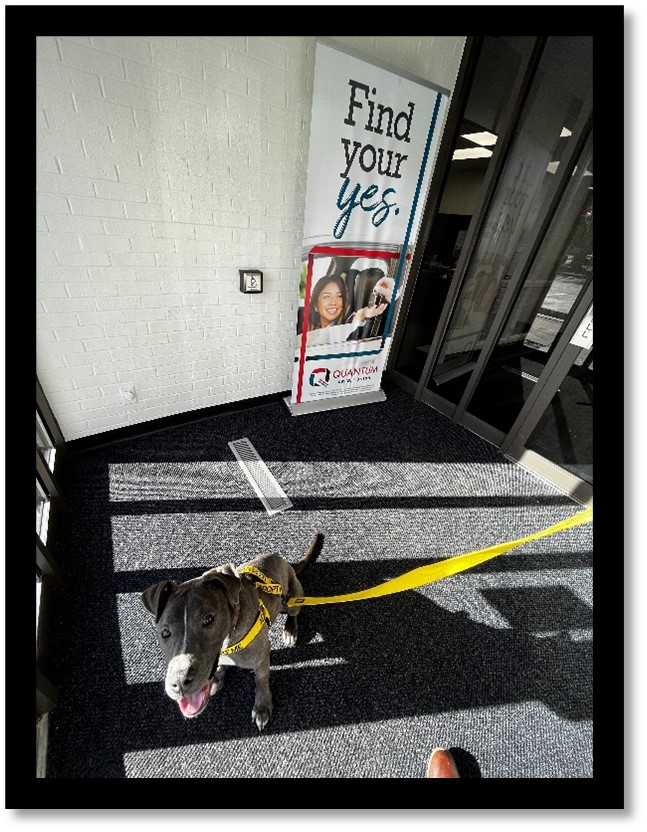 In addition to the Quantum Suite, we also partner with KHS for their Doggy Day Out program! Every month we "adopt" a pup for the day and show it a great time in Wichita! We travel to all three of our credit union branches to let our employees play with the dogs, give them treats, and belly rubs. After branch visits, we go to a local coffee shop for a Puppuccino, which is a cup of whipped cream, and then we're off to downtown, Delano, or the Douglas Design District. One of the most fun things we do is visit local businesses for treats, pets, and socializing. On our way back to KHS we stop at a park and go for a run and smell all the new smells. The dogs always have so much fun and treats that they normally need a little nap before heading back to KHS.
The Dog Day Out program is great because the dogs get a fun day away from the shelter, and, after making the rounds in the city seeing new places and meeting new people, they historically are adopted quickly after the adventure! We love helping them have fun during their stay, and really love helping them find their forever family by sharing pictures through social media, introducing them to new people, and socializing at local stores.
By summer we will have more news that will highlight our relationship with KHS, and we hope that our relationship grows to new heights this year and beyond! Follow us on our Instagram (@quantumcreditunion) and check in on Facebook or our website for future updates and blog posts! Thanks!
If you would like to have us stop by your business on a Doggy Day Out, please let us know by emailing This email address is being protected from spambots. You need JavaScript enabled to view it..